Garaventa Stair-Trac portable stair-climbing lift
Garaventa Stair-Trac portable stair-climbing lift
Garaventa Stair-Trac portable stair-climbing lift
Garaventa Stair-Trac Wheelchair Lift
"The Portable Wheelchair Stair-Climbing Machine"
Now available is a Garaventa Stair-Trac portable stair-climbing lift for manual wheelchairs, it includes new batteries and the battery charger. It's simple to operate, enabling wheelchair users to safely go up-and-down steps and stairways, and provides an affordable alternative to expensive remodeling or elevators. Itt is small enough to fit in a car trunk for traveling. This model retails new for $6.950. It features:
– It's compatible with most manual wheelchairs, no extra brackets necessary
– It can go up & down both indoor & outdoor stairways
– It's a fraction of the cost of installing an elevator or vertical lift
– It's perfect for travel, and increases one's independence & accessibility
Condition: Excellent, in full working order. New batteries & battery charger included.
Thanks for your interest! Feel free to email or call us at 336-501-8179 with any questions.
About the Garaventa Stair-Trac stair-climbing wheelchair lift
– The Garaventa Stair-Trac is an easy to use, portable wheelchair lift designed to attach to most every style of manual wheelchair. Its powerful motor allows any attendant to safely transport a larger passenger up and down stairways, and is suitable for indoor or outdoor use in buildings and private homes, and requires no on-site installation or modification. It provides a unique, affordable and reliable stair access solution rather than expensive remodeling or elevators. This portable wheelchair lift is easy to load into most car trunks.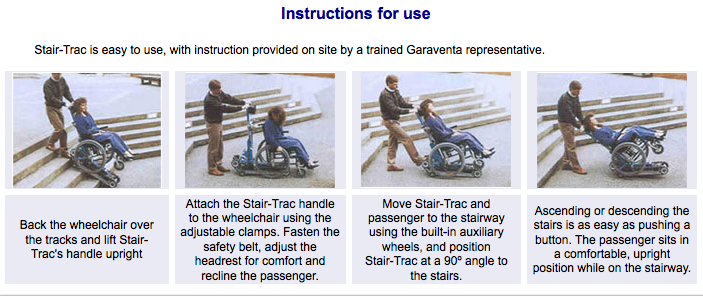 The Stair-Trac is proven safe and reliable. It features:
– Quick-release safety belt keeps passenger secure and safe.
– Easily dis-assembles for travel and compact storage.
– Power to carry over 250 lbs. to the top of a 35 story building.
– The center of gravity is centered directly over the tracks insuring optimum stability.
– Steel belted caterpillar tracks guarantee durability and long tread life.
– The attachment clamps are adjustable for height and width securing the wheelchair.
Technical Specifications:
– Maximum load: 285 pounds.
– Battery power capacity per charge: 650 stairs.
– Speed: 21 feet per minute ascending; 25 feet per minute descending.
– Dimensions: 36.5 x 58 x 25 inches, 119 lbs.